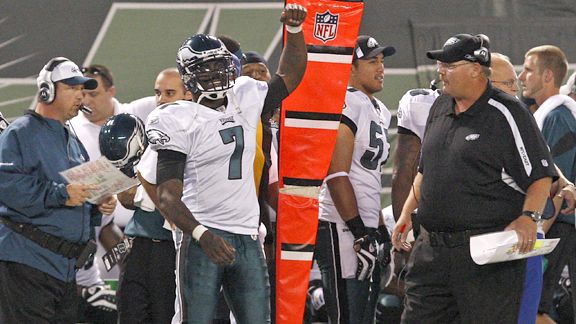 So, as we've already done with McNabb, it's time to breakdown where Michael Vick might end up.
Maybe I didn't make it very clear last time, but my thoughts on distinguishing landing spots for McNabb and Vick is simple. I see three largely distinct groups of teams looking for quarterbacks this offseason. There's the group who should be interested in McNabb: contenders who just need a good QB to put them over the top (e.g. MIN, ARI, SF). There's the group who should be looking to the draft: teams rebuilding long term (e.g. STL, CLE, SEA). And then, somewhere in between, there's the Vick group: those that don't have the time or don't want to fully rebuild, and are in some way desperate for attention (e.g. BUF, JAC, OAK).
This is definitely reductionist. For example, St. Louis might decide, as has been recently rumored, that Vick is a good bet for their franchise. Or Buffalo might want to go get McNabb instead. These are basic categories for who most likely will be interested — and you can definitely disagree with me.

But while we're here, let's define the Vick category a little better:
Not Blowing Up and Rebuilding: I would be shocked if someone like Pete Carroll traded for Vick. He has the luxury of a few years to rebuild his team the way he wants — and can therefore take the time to develop his own QB. Whatever team takes Vick has to be looking to win now.
Not a Contender Either: Arizona will not be risking their Super Bowl chances on the play of a quarterback who hasn't played in two years. Unlike McNabb, Vick isn't the last piece in the puzzle (and he may never have been).
Franchise Uncertainty: Trading for Vick is inherently risky. The cost might not be very high for him, but he hasn't started an NFL game in two years. Are you willing to risk your job on his performance? To some degree, the front office and/or coach is going to have to feel pressured to make a bold move and have something happen right away. Any team with the time or confidence to rebuild slowly won't be looking at Vick.
Desperation: This is what I think highlights the Vick-chasers most. Vick has maybe always been more hype than hero, and after two years away from the game that is definitely the case. Plus, he's still a PR risk (although not as much as he was before the Eagles took the hit). He still can be an exciting addition to a team looking to return from obscurity — or just attract more fans.
Need a QB, and Maybe Don't Want to "Try Again": Kind of obvious, but this team can't be set at quarterback. However, I think that they might be more likely contenders if they've already been burned once with a QB. San Francisco and Oakland fit that bill — both having tried and failed with #1 overall picks.
So that's the basic outline we're talking about. Desperate, attention-seeking, uncertain, middling teams. Who, per the rumors about Vick, fits this bill:
Oakland Raiders: Oakland was rumored to be interested last year, but Vick (or Tony Dungy) supposedly turned them down. Vick is everything Al Davis loves — speedy, flashy, big arm. And having already been burned by JaMarcus Russell, trading for a starter makes more sense. Of course, little Oakland does "makes sense." Then again, that may be a mark in their favor.
Buffalo Bills: Could be interested in McNabb, but the team reeks of desperation to me. They're trying to stay relevant while rumors swirl about a move away from upper NY (See: move for TO). New coach who probably won't be around long enough to mentor a new QB could be interested in Vick.
Jacksonville Jaguars: As I already talked about, the Jags could be an ideal spot for Vick. David Garrard hasn't wowed anyone, and everyone knows that their biggest problem is attendance. They have to get a game-changer this offseason to reverse that trend — whether that's Tim Tebow or Michael Vick.
San Francisco 49ers: I still think they're more likely McNabb suitors, but if Mike Singletary likes Vick and wants to work with him, don't count this out.
St. Louis Rams: Apparently there's been interest, but I think Spags would be better suited continuing his long-term rebuilding plan.
Cleveland Browns, Seattle Seahawks: Other teams with new regimes and long-term strategies. See above.
Carolina Panthers: Also mentioned them with McNabb, but this could be John Fox's last year. If he doesn't want to tie his future to Matt Moore, Vick could be an option.
Miami Dolphins: I know some people suggest this. Not likely. Chad Henne is their guy. (This also goes for DET, TB, KC)
Washington Redskins: If they weren't in the NFC East, I'd say Daniel Snyder's team would be in hot pursuit.
The takeaway: it's tough to tell who's really interested in Vick and who'd be willing to send a conditional pick for him. If the Eagles are forced to drop him before his bonus comes up then a lot of teams could be inquiring. Ultimately, though, I think the Jags take Tebow and either Buffalo or Oakland send something to the Eagles for Vick.
Thoughts?