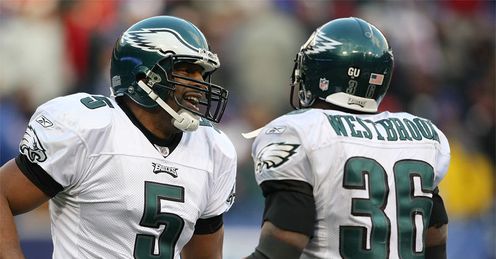 So according to Bob Brookover's many friends, the answer for 2010 is not to ditch McNabb, but to run the football. Brian Dawkins chimes in from Denver:
"Run the ball. With that passing attack, the way that thing is shaping up to be, go ahead and bring Donovan [McNabb] back to where he's supposed to be, and run that pill and let those weapons outside go to work."
Rich Gannon, for some reason, agrees:
"I think they have a tendency to get away from running the football a little bit," Gannon said. "Obviously, the injury to Brian Westbrook  didn't help, but I think in order to be good in that division, you have to be able to run the football."
Brookover's found a bunch of different criticisms of the Eagles in the article, so go check it out. But this one is the most interesting — because telling Andy Reid to run more is like asking Rex Ryan to stop eating or Bill Belicheck to wear non-ripped clothes.
The truth is that if Andy and Marty Mornhinweg decided to run the ball more, the team would be better for it. While the offense was big this past year, it was all predicated on the big play. However, this has been a constant refrain for years without really any change.
But at some point you have to realize that Andy won't ever change — at least as long as he has McNabb's arm to count on. This has been a refrain Tommy Lawlor has reiterated often. Saying Andy should keep McNabb but change the way he operates the offense is silly, because it won't ever happen. Keeping McNabb naturally entails doing the same thing next year as they did last year.
And honestly, look at the box scores for the two games Kolb started: NO and KC. Andy's not going to change his ways even when Kolb's in the game. The throws might be different, but there's still going to be a lot of them.
Accept that as a constant in this whole debate and move on.