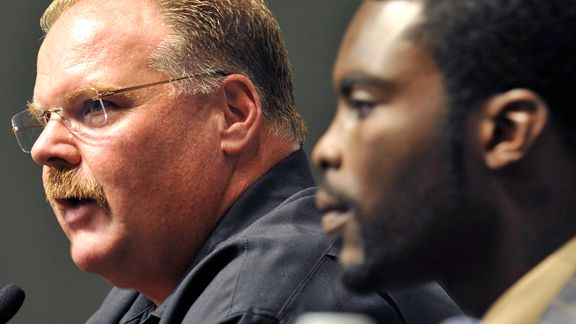 NFL Network's Michael Lombardi reported Tuesday night that the Eagles, suddenly, plan to keep quarterback Michael Vick.

Lombardi says the Eagles feel as if they're "in a luxury position" with regard to their current quarterback group.  They have Vick, probable future starter Kevin Kolb, and five-time Pro Bowler Donovan McNabb signed through 2010.
Yeah, I'm not buying this any more than Florio's crew. This is the front office's direct response to Vick's trade demand Monday. I think everyone (NFL GMs) knows the Eagles will drop Vick if they can't get even a conditional pick for him. Maybe by pretending they can keep all their QBs Andy & Co. can up the price a little bit though — or even trick a team into thinking they have no shot at picking him up as a free agent if a deal fell through.
The interesting thing is that Vick would much rather be dropped and get to choose his landing spot. It's in his best interest to lower his trade value, as long as he's sure the Eagles won't keep him around — hence his talk of not being so happy in a backup role.
We'll be following this tricky dance closely.
Update: Here's the original report on nfl.com.