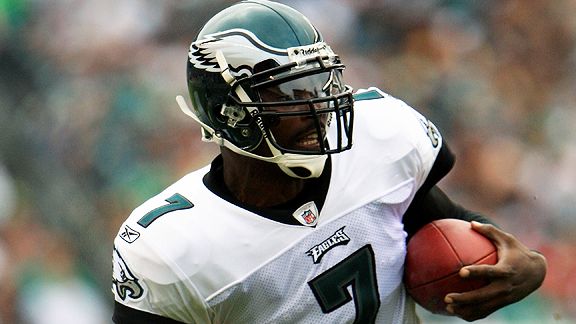 So over at PFT the headline "Report: Eagles to pay Vick's bonus" caught my eye, as it may have yours. And the report says with such certainty:
Citing "multiple league sources," Geoff Mosher of the Delaware News Journal reports that the Eagles fully intend to pay Michael Vick's $1.5 roster bonus, due March 5, and trade him thereafter.
Wow. That sounds pretty definitive, like Mosher found out from the Eagles front office that the team has decided to keep, then trade Vick. But what did Mosher actually discover?
Multiple league sources have told me that they anticipate the Eagles paying Vick's 1.5 [million dollar] roster bonus and holding onto Vick for as long as possible to get the best available offer.
Oh. So the "Eagles fully intend to pay" wasn't quite so definitive. It was just PFT's interpretation… of another reporter's interpretation… of multiple random league sources' interpretations… of what they think the Eagles might do. In other words, a few league guys shooting the breeze at the combine said they think the Eagles would probably end up holding on to Vick for a little while, which Mosher buried in a story about Leonard Weaver contract negotiations — because it isn't news.
Then PFT got a hold of that story and the flawless brand of journalism propagated by Florio's crew turned it into something akin to "OMG LOOK AT THIS BREAKING NEWS: EAGLES TO KEEP VICK."
Sigh.