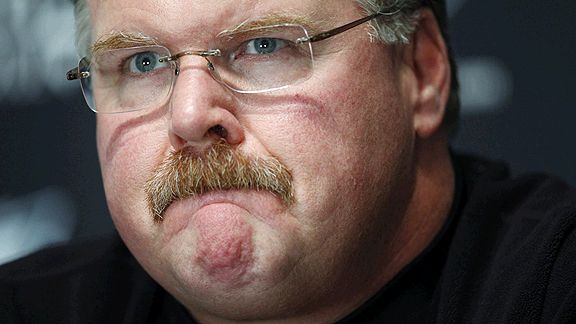 So we now have competing reports on whether the Eagles have actually offered Kevin Kolb a contract extension.
But regardless of its veracity, who did GCobb actually get the information from? He didn't just make up an "NFL source." Someone told him this. But who? And why?
It's clear to me that the only entity this "leak" (calling it that even absent verification of truth) hurts is the Eagles. If the team actually wants to extend Kolb's contract and trade McNabb, the best scenario is to work out a deal with Kolb without anyone hearing about it, trade McNabb, then announce Kolb's new deal. Having the deal leak hurts McNabb's trade value, while trading McNabb before a deal is in place with Kolb ratchets up the new starter's leverage in negotiations. Obviously if the Eagles don't actually want to extend Kolb at all, this is even more against their wishes.
In other words, unless there's some kind of rift in the Eagles organization right now, it didn't come from the NovaCare Complex.
So if it hurts the Eagles, who does it help? In theory the leak helps any team around the league interested in acquiring McNabb or Kolb. But I don't believe GCobb would have believed, and continued to stand up for, a source from some random NFL who wouldn't be privy to internal negotiations. Plus, they wouldn't have been able to tell Cobb this part:
I learned that someone in the Eagles front office had communicated to Kolb more than a year ago that he was going to take over as the starting quarterback in a year or so.
Again, we have no way of verifying this information. But someone who Cobb believed would know that told him so.
So its not the Eagles. It can't be some random NFL guy. There's only one person/group who could have leaked it:
Kevin Kolb.
Let it sink in for a moment. This information getting to the public helps Kolb in his negotiations — because as soon as the Eagles have committed to him as their quarterback of 2010, they have to pay him accordingly. In other words, the Eagles currently have all the negotiating power because they can threaten to trade Kolb if he doesn't accept their below market value contract extension.
As soon as word gets out, hopefully credibly but not identified as a source close to Kolb (I'm not saying Kolb got on the phone himself necessarily), the Eagles lose a little bit of that leverage. The public (which according to recent polling is heavily in favor of Kolb, not McNabb) will be expecting Kolb to be the starter next year. McNabb might even demand a trade once he hears that negotiations have been going on behind his back. Actually, these positive developments for Kolb are true even if there hasn't been been any contract offer yet. The leak works from every angle.