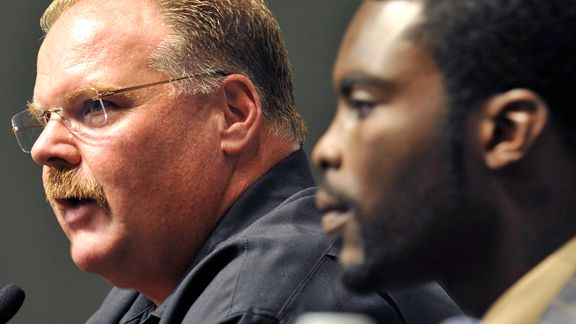 Apparently I'm not alone in disagreeing with the silly report about Vick not getting traded until the summer. Matt Bowen over on National Football Post gives his take:
What value would the QB have then? Maybe a backup role in another city, but to expect a team to come in — with injury issues at their quarterback position — and make an offer for Vick in August just isn't sitting well with me today…

I agree that NFL offseason programs can act more as babysitting services, outside of a weekend mini-camp and two weeks of OTA's, but if you have your eye on Vick as a possible starter, he needs to be there. He needs to be in the playbook, in the meeting room and so on. All of the things we tend to talk and write about come May.
Exactly what I said. I don't understand why people keep taking the report about the Eagles waiting until as late as the preseason to unload McNabb seriously. Vick's value goes down after the draft, and rapidly declines once teams go into offseason workouts and training camps.
Very simply, the Eagles are not going to get a better offer than whatever they are talking about right now. Bowen sums it up nicely:
So, if the right offer were floated today, I don't know how the Eagles could actually turn it down. And, that is why this report is so odd, so strange and so out of character for the NFL buzz.